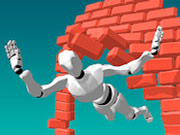 Jumpero
---
Description :
Jumpero is definitely an enchanting jumping casual game. Have you ever dreamt of getting rid of the gravitational effect and jumping to the height enough for leaping over a high wall? Today, your dream will come true in our virtual world. You are endowed with such a gifted jumping ability that nothing seems to be capable of standing in your way. Go for it and claim your laurels!
Keywords :
Skill, Running, Robot, Platform, Obstacle, Kids, Jumping, Bricks, Boy, Avoid, Arcade, 3D,
Control :
Click or tap to control.
Author :
yad.com
---
Comments
Please login or register to post a comment