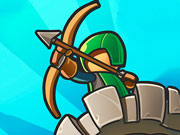 Kingdom Defense
---
Description :
Kingdom Defense is an exciting defense game. As a soldier, you need to protect your city from barbarians. There are three different types of magic in the game, fire magic, ice magic, and thunder magic. You can use magic to attack the enemy, but the enemy has many kinds of weapons. These weapons are very powerful, and your city cannot withstand too many attacks. . As the monsters continue to die, you can improve your skills, pay attention to timely upgrades, and replace weapons.
Keywords :
Zombie, Undead, Monster, Magic, Launch, HTML5, Fire, Defense, Boy, Bow,
Control :
Click and drag the mouse to play.
Author :
yad.com
---
Comments
Please login or register to post a comment