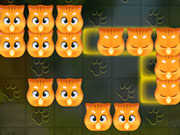 Kitty Blocks
---
Description :
There is no doubt that the puppet cat is one of the cutest animals in the world. Don't hesitate to come to the world of Kitty Blocks and spend every day happily with a large number of puppet cats. If you are a cat lover, don't miss this game, if you like this game, don't forget to share it with your friends. Your task is to arrange the cute cat's claw squares in a prescribed order. These cute cat's claw squares are all very cute geometric figures.
Keywords :
Timing, Tetris, Puzzle, Matching, Lego, Jigsaw, HTML5, Cat, Brain, Boy, Block,
Control :
Click and drag the mouse to play.
Author :
gamedistribution.com
---
Comments
Please login or register to post a comment