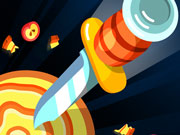 Knife Hit 2
---
Description :
Knife Hit Challenge is an interesting new arcade game. Your task is to shoot a round object at the top of the screen with a sharp flying knife and penetrate it, but not every part can be penetrated, you need to choose no obstacles At the same time, collect green diamonds, throw a throwing knife, hit the sphere, and earn points. Enjoy the fun of shooting in the Knife Hit Challenge game! Throw the blades, collect the diamonds, and then go up the level ladder. Remember that you only have a limited number of cutting weapons to complete each level.
Keywords :
Sword, Soccer, Skill, Obstacle, Launch, Kids, Jewel, HTML5, Football, Collecting, Boy, Basketball
Control :
Click or touch to throw the knife.
Author :
ivigames.com
---
Comments
Please login or register to post a comment