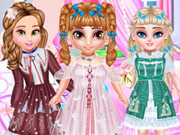 Little Princess Lolita Style Makeover
Category :
other
Note :
(0)
---
Description :
Since the movie Lolita was released, the Lolita style has taken the world by storm. Tens of thousands of girls like this style of clothes very much, especially the princesses of Elsa, Anna, and Belle. They hope to have the most beautiful Lolita in the world. Rita style skirt, as a well-known fashion designer, you need to find a way to satisfy the princess's wishes. If you can succeed, the princess will thank you very much. In addition, they also need Lolita-style makeup. Come and use your creativity and imagination to help the princesses realize their wishes.
Control :
Mouse click or tap to play.
Author :
babygames.com
---
Comments
Please login or register to post a comment