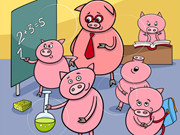 Match Missing Pieces
---
Description :
Match Missing Pieces is undoubtedly one of the hottest jigsaw puzzle games this year. It has an addictive gameplay and a cute cartoon art style. Unlike other jigsaw puzzles, you only need to match four puzzle pieces. Put the puzzle pieces in the correct position and successfully advance to the next level. This new style of gameplay is very popular. If you are tired of the traditional puzzle gameplay, then you must not miss Match Missing Pieces! The new puzzle challenge is here! Let's see how many levels you can successfully challenge.
Keywords :
Puzzle, Matching, Kids, Jigsaw, HTML5, Cartoon, Brain, Boy, Animal, Android
Control :
Mouse click or tap to play.
Author :
babygames.com
---
Comments
Please login or register to post a comment