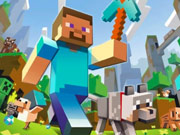 Minecraft Free
---
Description :
In Minecraft Free, players explore a blocky, procedurally-generated 3D world with infinite terrain, and may discover and extract raw materials, craft tools, and items, and build structures or earthworks. Depending on the game mode, players can fight computer-controlled mobs, as well as cooperate with or compete against other players in the same world. Game modes include a survival mode, in which players must acquire resources to build the world and maintain health, and a creative mode, where players have unlimited resources. Players can modify the game to create new gameplay mechanics, items, and assets.
Keywords :
Retro, Pixel, Obstacle, Minecraft, Kids, Jumping, HTML5, Editor Choice, Design, Collecting, Boy,
Control :
Use arrow keys to control the character move and click to dig.
Author :
gamescrush.com
---
Comments
Please login or register to post a comment