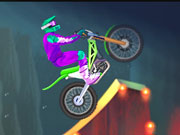 Moto Maniac 2
---
Description :
Moto Maniac 2 is not only a motorcycle driving game, but also a stunt show game through obstacles. You need to overcome various obstacles and reach the destination platform without any collision. The less time you use, the higher your score in Moto Maniac! It is worth noting that the levels in the first half are relatively simple, and the levels in the second half are more difficult. Are you ready? If you are a fan of driving games, don't miss this game. If you like this game, don't forget to share it with your friends!
Keywords :
Timing, Stunts, Skill, Side Scrolling, Platform, Obstacle, Motorcycle, Kids, HTML5, Highscore, Boy, Bike,
Control :
Use arrow keys to control the car move and space to brake.
Author :
iriysoft.com
---
Comments
Please login or register to post a comment