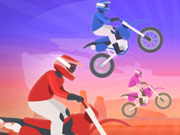 Motocross Hero
---
Description :
Motocross Hero has proven to be one of the most popular new arcade games this year, with addictive gameplay and 2D art style. Race your motocross bike across the desert in this exciting MX motorsports game. Avoid obstacles such as potholes and large cracks. Use the rear motorbike wheel to knock out your opponents. If you like this game, don't forget to share it with your friends!
Keywords :
Skill, Side Scrolling, Racing, Obstacle, Motorcycle, Kids, House, GameDistribution, Boy, Bike, Avoid, Arcade
Control :
Use arrow keys to control the car move and space to brake.
Author :
gamedistribution.com
---
Comments
Please login or register to post a comment