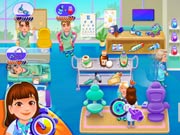 My Hospital Doctor
Category :
other
Note :
(0)
---
Description :
My Hospital Doctor is a lovely hospital game. There are various hospital activities like general hospital check-ups and treatments, dental hospital check-ups, and so on. The patients keep coming with their problems and you are the only one who can nurse them in this game. Manage your time as a doctor and work fast to diagnose, treat and cure all those who need treatments in this hospital simulation game. For better treatments in the medical clinic game, you have to upgrade your hospital and pursue a medical career from a medical student to a senior doctor.
Keywords :
Timing, Room, Rescue, Point And Click, Kids, HTML5, Doctor, Car, Boy, Android
Control :
Click to control. Tap to control.
Author :
nosite.com
---
Comments
Please login or register to post a comment