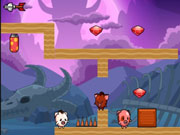 Pig Bros Adventure
---
Description :
Legend has it that there are many expensive gems in the magic deep forest. The little pig brothers are very good friends. They left the country together and went to the deep forest to dig for gems. You need to help the brothers avoid obstacles in the forest, including spikes and bricks. And the fallen stones, and collect the rubies scattered on the platform, are you ready for this exciting adventure? Come explore with them and collect gems.
Keywords :
Skill, Side Scrolling, Running, Platform, Obstacle, Kids, Jumping, Jewel, HTML5, Collecting, Bricks, Boy, Skill
Control :
Use arrow keys to control the character move and click to jump.
Author :
to43.com
---
Comments
Please login or register to post a comment