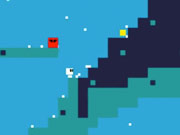 Pixels For Christmas
---
Description :
Pixels For Christmas is a new style arcade game with pixel style. In this important holiday of Christmas, your goal is to run and jump between different platforms and collect all the golden pixels. This will be an exciting action-adventure. Are you ready to spend Christmas in this magical pixel world? Take care to avoid dangerous traps and obstacles, including white pixels and moving guards!
Keywords :
Skill, Side Scrolling, Running, Platform, Pixel, Obstacle, Kids, Jumping, HTML5, Holiday, Food, Collecting,
Control :
AD or left and right arrows to move, W or up arrow to jump.
Author :
crazygames.com
---
Comments
Please login or register to post a comment