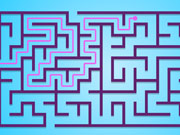 Play Maze
---
Description :
Complete all different mazes for speed and show the best result! Be careful, you can get lost in the maze, think about every step you take. Obstacles in the maze want to confuse you, it's good that you leave a mark. Your task in this popular puzzle game is simple: find the exit and escape the maze! Select one of three modes that fit your preferences: classic mode with increasingly difficult mazes, the dark mode where you only have a limited field of vision, and timed mode where you have to beat the maze as fast as you can. Try not to get lost and complete all levels!
Keywords :
Puzzle, Maze, Kids, HTML5, Brain, Boy, Android
Control :
Swipe to change directions and guide the dot through the labyrinth.
Author :
y8.com
---
Comments
Please login or register to post a comment