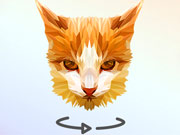 Poly Art
---
Description :
Because of serious survival problems such as environmental pollution and increasingly scarce resources, people on earth have to migrate to live on other resource-rich planets. The United Nations has sealed some very valuable assets in the space capsule, but very terrible things have happened. The Star Fleet attacked these space capsules and blew up the precious resources sealed inside. As a professional restorer, you need to reassemble these fragments into complete items. It is worth noting that this is not a simple two-dimensional picture, but a simulation of the real three-dimensional world!
Keywords :
Puzzle, Kids, Fruit, Food, Cat, Brain, Boy, Animal, Android, 3D, GameDistribution
Control :
Click and drag the mouse to play.
Author :
gamedistribution.com
---
Comments
Please login or register to post a comment