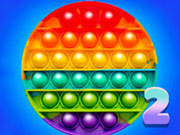 Pop It 2
---
Description :
It has similar gameplay and art style to the previous work. The game is designed to help adults and children relieve stress and anxiety and enhance their ability to resist stress. The game contains many popular 3D models, such as dinosaurs, bubble gum, my little pony friendship is magic, slimes, mermaid, and so on. The game is a well-known fingertip toy and at the same time a strange and satisfying anti-stress game. In addition to the unique sound effects, the game also has different bubble-pushing sound effects, which is very satisfying.
Keywords :
Relaxation, Puzzle, Kids, HTML5, Fidget Toys, Bubble, Boy, Block, Ball, Android
Control :
Click or tap to control.
Author :
yad.com
---
Comments
Please login or register to post a comment