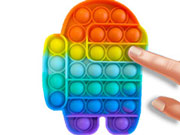 Pop It Bubble Game
---
Description :
Pop It Bubble Game is a satisfying decompression game. If you encounter a lot of stress in work or life, then this game can undoubtedly meet your need for relaxation. This game can help cope with daily stress. And make people feel happy. There are many models of different shapes in the game, such as flowers, unicorns, hearts, bears, pineapples, etc. When you need to relieve anxiety and relax, please turn on this anti-stress game, it also has a magical effect on our mental health. When you feel restless, this is a casual game that makes you satisfied and calms down.
Keywords :
Relaxation, Puzzle, Kids, HTML5, Bubble, Boy, Block, Ball, Android, Fidget Toys
Control :
Click or tap to control.
Author :
bestgames.com
---
Comments
Please login or register to post a comment