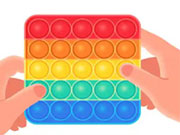 Pop It Fidget
---
Description :
Meet the popular anti-stress toy Pop It Fidget! If you encounter great pressure in work and life, then you might as well try the latest casual game Pop It Master. Your task is to collect all the balls in each level and find the balls from the original three-dimensional pictures. Come out, this is a very easy and simple game, you can choose your favorite three-dimensional graphics, including various animal graphics and geometric graphics, are you ready?
Keywords :
Relaxation, Puzzle, Kids, HTML5, Fidget Toys, Bubble, Boy, Block, Ball, Animal, Android
Control :
Click or tap to control.
Author :
yad.com
---
Comments
Please login or register to post a comment