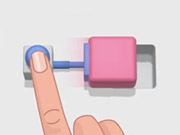 Push To Move
---
Description :
If you like puzzle games, then Push To Move is definitely one of your ultimate choices! You need to use your wisdom to push the blocks into the hole to pass the level. Plan your actions before you start, otherwise you may fail. Challenges will become more and more difficult, have fun, and show your talents while pushing! The first half of the levels are very simple, the second half of the levels are very difficult, come and find a way to complete each level.
Keywords :
Strategy, Puzzle, Obstacle, Kids, HTML5, Bricks, Brain, Boy, Block, Avoid, Android
Control :
Mouse click or tap the screen to play.
Author :
topmathgames.com
---
Comments
Please login or register to post a comment