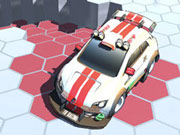 Racerking
---
Description :
In the new arcade game of Racerking, your car will always keep driving automatically. What you need to do is make your car drive on the platform. Whenever you drive through an area, the platform will collapse. When you encounter a narrow area, you can jump up. Your task is to keep the car alive on each platform! Keep calm and start this exciting game of Racing! Your car will drive forward automatically all the time. What you need to do is to keep your car stay on the platform without driving repetitive routes at each level.
Keywords :
Skill, Racing, Platform, Obstacle, Kids, Jumping, Car, Boy, Block, Avoid, Arcade, Android,
Control :
Use arrow keys to control the car move.
Author :
bestgames.com
---
Comments
Please login or register to post a comment