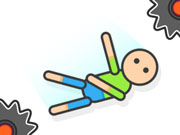 Ragdoll Fall
---
Description :
Ragdoll Fall is a fantastic arcade game in which you must attempt to avoid the red blocks and prevent yourself from falling. You must have quick reactions and time your jumps and slides perfectly in order to progress through each level. You will spend hours working through each level and perfecting your jumping and sliding skills. How far can you progress and what high score can you register? Arcade game to test your reflex and improve it. Jump on platforms to get points, avoid saws, and use a quick drop to avoid missing another platform. Have a nice game!
Keywords :
Skill, Side Scrolling, Platform, Physics, Obstacle, Launch, Kids, Jumping, HTML5, Boy, Bounce, Avoid,
Control :
Click or tap to control.
Author :
qkygames.com
---
Comments
Please login or register to post a comment