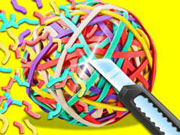 Rubberband Cutting
---
Description :
RubberBand Cutting is a new arcade game with a 3D art style, it hardly has any difficulty. Some important daily necessities are bound by rubber bands! You need to cut all the rubber bands from the items in each level. Although it is a very sharp pair of scissors, I suggest you look for a vertical angle to improve cutting efficiency. This is a very effective method. Have fun!
Keywords :
Soccer, Skill, Relaxation, Kids, Fruit, Football, Food, Editor Choice, Boy, Bowling, Block, Ball
Control :
Click and drag the mouse to play.
Author :
bestgames.com
---
Comments
Please login or register to post a comment