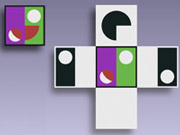 Shape Jigsaw Puzzle
---
Description :
Geometry is a very important branch of the mathematical system. If you are a person with a strong sense of graphics, then you might as well try this game Shape Jigsaw Puzzle. This is a completely logical game. Use your intelligence to complete all of this checkpoint. You need to click on these different shapes in the correct order to get the target picture. It can exercise your brain. If you are a person who is very sensitive to graphics and colors, come and prove your graphics ability through this game!
Keywords :
Puzzle, Kids, Jigsaw, HTML5, Educational, Brain, Boy, Android
Control :
Mouse click or tap the screen to play.
Author :
topmathgames.com
---
Comments
Please login or register to post a comment