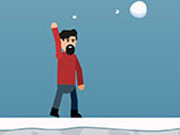 Snowball Throw
---
Description :
Snowball fight is one of the most exciting games in the world, it is a game about snowball fights. In this game world, there are no worries, only the joy of snowball fights. Your task is to throw snowballs as much as possible. It is worth noting that you have five snowballs, and your arms will swing faster and faster to find a suitable one. Time to throw. The snowball will move forward with the screen. The longer the snowball travels, the longer the distance it travels. So you must do your best to wave your arms. Are you ready?
Keywords :
Sports, Snow, Skill, Side Scrolling, Physics, Kids, Ice, HTML5, Boy, Ball, Arcade, Android
Control :
Click and drag the mouse to play.
Author :
yad.com
---
Comments
Please login or register to post a comment