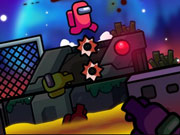 Space Imposter
---
Description :
Again the little characters of Among Us start a new adventure now each of the characters will have the opportunity to reach the goal of each level safely and securely, very complicated levels with levels of much more complex difficulty in each level. The objective of the game is to control the characters of among us and help them to run through the dangerous platforms of each level, jump at the right moment, to avoid the dangerous blades that are on the ground or that are stuck on the platforms, many obstacles on your way you must help the little characters to arrive safely in each level.
Keywords :
Spaceship, Skill, Side Scrolling, Running, Robot, Platform, Planet, Obstacle, Kids, Jumping, HTML5, Highscore,
Control :
Use Arrow or Touch and Slide.
Author :
kiz10.com
---
Comments
Please login or register to post a comment