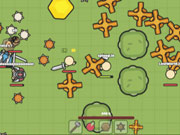 Sploop.io
---
Description :
Get ready to enjoy with Sploop.io an exciting multiplayer fighting action game in which you will have to put a multitude of skills to the test as you try to annihilate your opponents and try to collect resources, unlock weapons, gain experience and build an impregnable fortress. Try to team up with your friends to crush your opponents and try to find the best building strategy if you want to survive to the end. Use traps, turrets, spikes or place buildings to optimize your harvest of resources to survive. There are many possible strategies and they are all valid!
Keywords :
PVP, Obstacle, Multiplayer, Launch, Killing, Kids, HTML5, Fighting, Boy, Bow, Avoid, Android
Control :
Use arrow keys to control the character move and click to fire.
Author :
nosite.com
---
Comments
Please login or register to post a comment