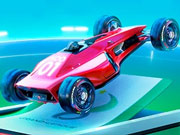 Trackmania Blitz
---
Description :
TrackMania Blitz is a 2D multiplayer racing game developed by Ubisoft. In the game, players can experience crazy speed. You can participate in elimination competitions with 14 other players, and show you through precise turns and fast jumps. You can even break the world record on the global leaderboard! Are you ready?
Keywords :
Skill, Racing, Kids, HTML5, Car, Boy, Arcade, Android
Control :
Use arrow keys to control the car move and space to brake.
Author :
crazygames.com
---
Comments
Please login or register to post a comment