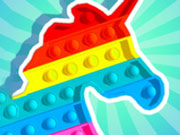 Trz Pop It
---
Description :
Are you excited when you play a game that can relieve your stress? Like other Pop It games, such as soft toys and mucus, Trz Pop It is also an anti-stress game that can relieve your stress and anxiety. When you feel stressed, you can play Trz Pop It. You can use your mobile device to play this anti-stress game anytime, anywhere. Have you ever dreamed of becoming an artist? In this game, you only need to choose the model you like, then change the texture of each bubble, choose the background you like and name it, and finally, you will get a very unique Pop It fingertip toy!
Keywords :
Relaxation, Puzzle, Kids, HTML5, GameDistribution, Fidget Toys, Bubble, Boy, Block, Ball, Android
Control :
Click or tap to control.
Author :
gamedistribution.com
---
Comments
Please login or register to post a comment