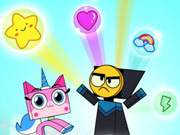 Unikitty! Rainbow Rage
Category :
other
Note :
(0)
---
Description :
Unikitty! Rainbow Rage is a very classic puzzle game. If you are a fan of this kind of game, don't miss this game. A tile-matching video game is a type of video game where the player manipulates tiles in order to make them disappear according to a matching criterion. In many tile-matching games, that criterion is to place a given number of tiles of the same type so that they adjoin each other. That number is often three, and these games are called match-three games.
Keywords :
Relaxation, Matching, Kids, HTML5, Fruit, Cute, Cartoon Network, Cartoon, Boy, Block, Android
Control :
Click to play.
Author :
cartoonnetwork.com
---
Comments
Please login or register to post a comment