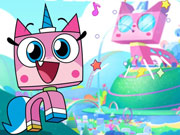 UniKitty! Save the Kingdom!
---
Description :
UniKitty is a very cute little squirrel. One day, the lord of the demon castle captured UniKitty and imprisoned it in the dark forest. UniKitty was very brave and decided to escape by himself. UniKitty found a mysterious path in the vast forest. Although there are many terrible monsters and other obstacles in this passage, you need to collect some diamonds and gold coins on the road ahead. If you want to help the little squirrel, why do you hesitate? If you like this game, don't forget to share it with your friends.
Control :
Use arrow keys to control the character move.
Author :
cartoonnetwork.com
---
Comments
Please login or register to post a comment