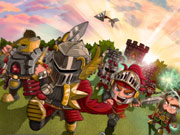 Veratowers 2
---
Description :
Veratowers 2 is a tower defense and fantasy game. At the same time, this is also a fascinating magical game world. There are various modes in the game. In the single-player survival mode, you will lead the human army as an archer. And fight against strong orc tribes, fearless undead army or other monsters on various battlefields. Your task is to upgrade archers, hire new fighters and improve their attack and defense levels. Seize the opportunity, if you are a very good strategist, you are welcome to use the competitive multiplayer game mode to show your strength.
Keywords :
War, Tower Defense, Strategy, Snow, Side Scrolling, PVP, Multiplayer, Monster, Magic, Kids, Ice
Control :
Use Space or Left Mouse Button to shoot.
Author :
veratowers.com
---
Comments
Please login or register to post a comment