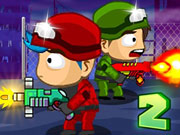 Zombie Parade Defense 2
---
Description :
Zombie Parade Defense 2 is an interesting zombie shooting game, and it is also a new arcade game. In the game, you will play an excellent soldier and land in an area full of zombies by helicopter to protect the safety of the castle. , Kill all the zombies, pick up weapons and ammunition, shoot and move quickly, and most importantly, keep yourself alive! You have to use weapons, turret towers, mines, shields, and bonuses to stop them. Whether you play 1 Player or 2-3 Player, the goal is to keep the zombies away from the building. If you can survive a total of 10 waves, you win the game!
Keywords :
Zombie, Undead, Submachine Gun, Skill, Multiplayer, Killing, Kids, HTML5, Gun, Fire, GameDistribution
Control :
Use arrow keys to control the character move.
Author :
twoplayergames.org
---
Comments
Please login or register to post a comment