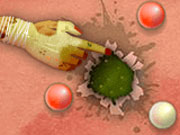 Zombie Pool
---
Description :
Snooker is a very popular sport, but have you played a game of snooker with zombie elements? Can you imagine that the table is full of zombie body parts and these organs are blocking your cue? In the Zombie Pool game, all your imagination is true. This is a scary and very interesting game. If you are a snooker game fan, don't miss this game. You need to be careful and master it. The strength and direction of the services, your task is to make every snooker ball fall into the basket.
Keywords :
Undead, Sports, Pool, Physics, Kids, HTML5, GameDistribution, Boy, Bounce, Billiard, Ball,
Control :
Click and drag the mouse to play.
Author :
Happylander.com
---
Comments
Please login or register to post a comment